Description du produit
Our 20 years aged imperial Pu-erh tea is picked from Old Tea tree of 3 -10 meters height in China. It is a perfect reward to your workout or busy day.
Pu'er is a "slow" beverage, intended to be sipped, aged and savored like fine wine, stored for the new born baby girl for the
future marriage ceremony from ancient time, people waiting for it to age more before trying it and thrilled to open the bottle before drinking. And, much like a fine wine or a Dom Perignon, pu'er has established brands, labels and revered productions that can reach iconic status. Grown in Yunnan Province in the southwestern part of China, and aged for more than 20 years under good cared condition in our standard warehouse.
When comes to the common criteria of good puer tea, it's supposed to be the better tea leaves and the longer storage, the better the Puer tea.
| | | | | |
| --- | --- | --- | --- | --- |
| Name | Organic Aged 20 Years Yunnan Royal Pu Erh Tea | | | |
| Origin | Yunnan,China | | | |
| Altitude | 500M above sea | | | |
| Process | Plucking-weathering- fixation-rolling-drying-packing | | | |
| Harvest Time | Spring | | | |
| Dried Leaves | Tight leaves with golden tips | | | |
| Infusion | Brownish auburn and bright | | | |
| Taste | Complex, mellow, sweet aftertaste | | | |
| Aroma | Pu'er rich aging fragrance | | | |
| Brewed Tealeaves | Clearly stretched, fat in brownish auburn | | | |
| Shelf Life | The aged the better, Stored in a well-closed container away from moisture and light | | | |
Product Details1.The dried tea are tight,tender, golden in color, golden bud, Royal collection grade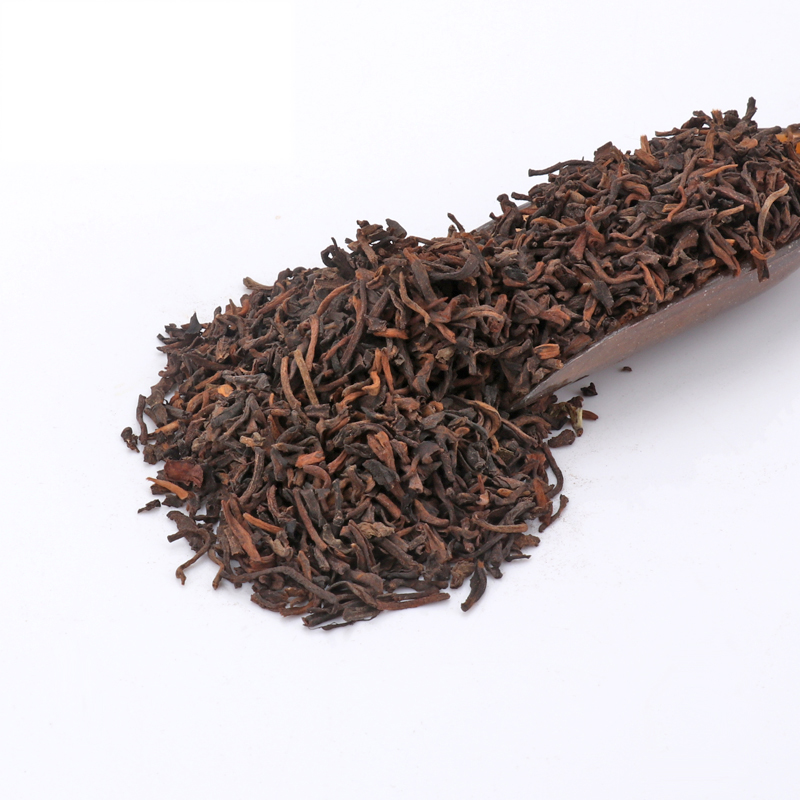 2. The infusion is reddish brown and bright, Pu'er has rich aging fragrance, sweet and mellow taste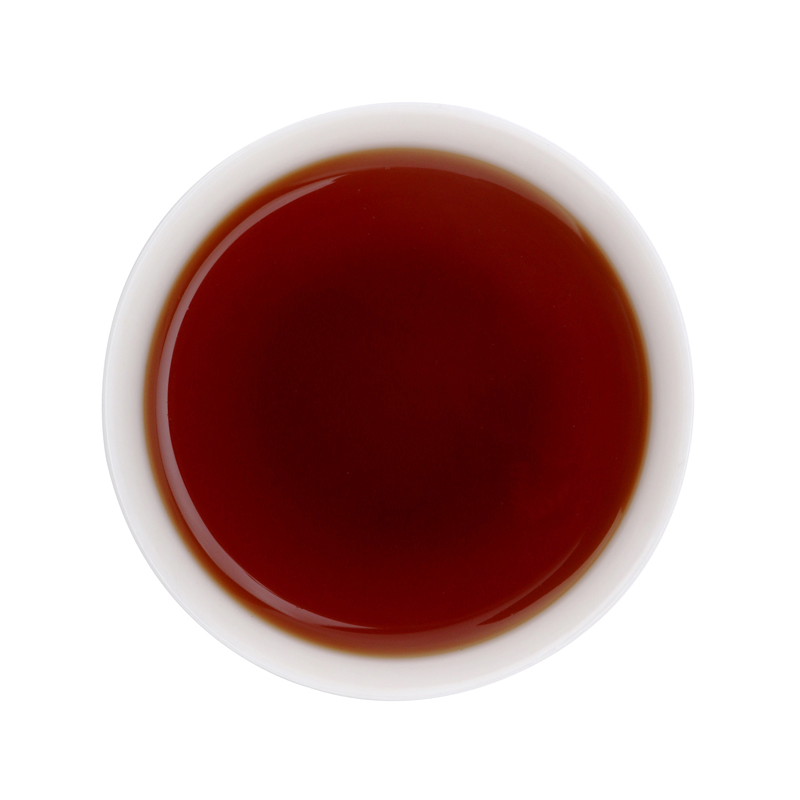 3. The tea buds and leaves are intact, flexible, Multiple times brew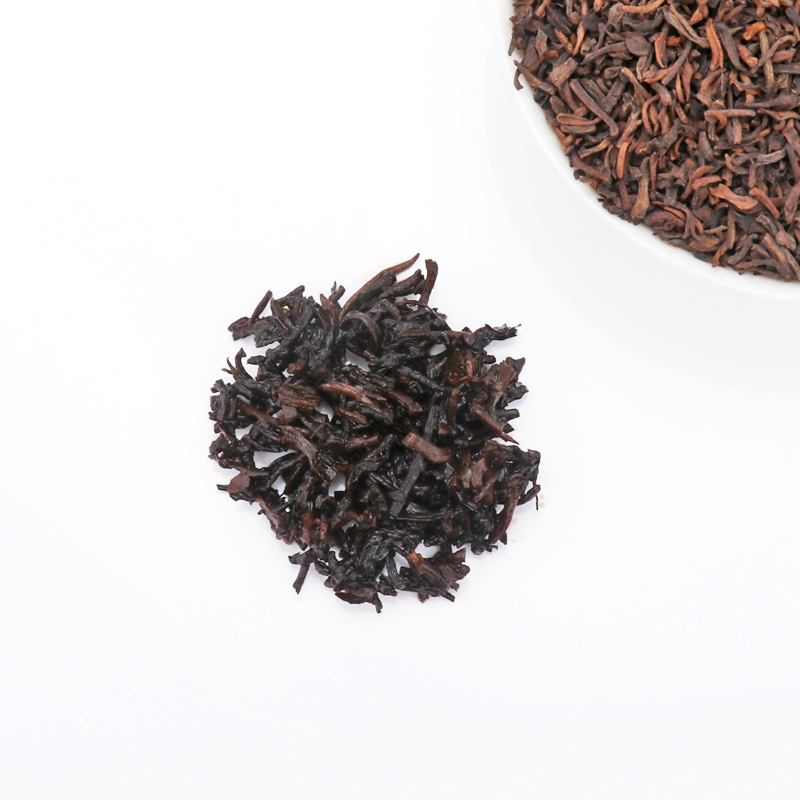 Our imperial Pu-erh tea is made from the leaves and stems of the Camellia sinensis plant, of which the same plant that is used for processing green, oolong, white and black teas.
Though the same tea leaves is used, the different teas are made through different process.
Generally, Puer tea process involves two stages after harvesting. Firstly, the tea leaves are prepared similar to green tea, which called Maocha, raw green tea material after fried and sunned. Secondly, the raw Maocha tea leaves are going through fermentation under high humidity with certain ratio of water and then prolonged storage, or "aging".
Pu-erh tea is used for improving mental alertness and sharp thinking. It is also used for reducing high cholesterol.Pu-erh tea contains caffeine, which works by stimulating the central nervous system (CNS), heart, and muscles. Pu-erh tea also contains antioxidants and other substances that might help protect the heart and blood vessels, as well for lowering cholesterol.
Puer tea is very trendy to be used as kombucha ingredients nowadays, which makes it more popular to the tea lovers.
Superior environment in tea tree production areaHigh mountains Organic tea plantation High mountain tea trees in Menghai, Yunnan, a high mountain tea garden 500 meters above sea levelMenghai Big Leave Tea tree is famous for its high fragrance and sweetness The excellent Menghai large-leaf tea tree species was bred and developed in this area, and it quickly earning its reputation as one of the best varieties for pu-erh.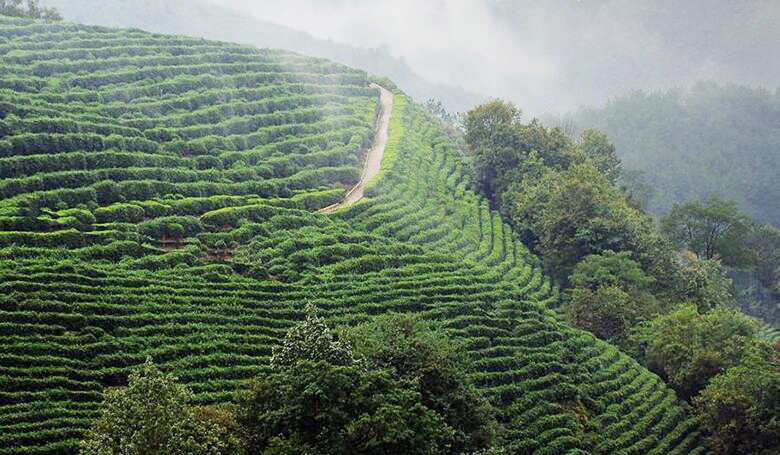 Organic ecological tea garden The organic tea garden adopts green and organic planting management throughout the whole process, and tea trees are planted in high mountains.
For spring water irrigation, only three organic fertilizers, such as cow dung, sheep dung, and peanuts, are used as fertilizer.Use insect-repellent yellow boards and solar insect-killing lights to exterminate insects without applying chemical fertilizers or spraying pesticides to ensure the safety of tea.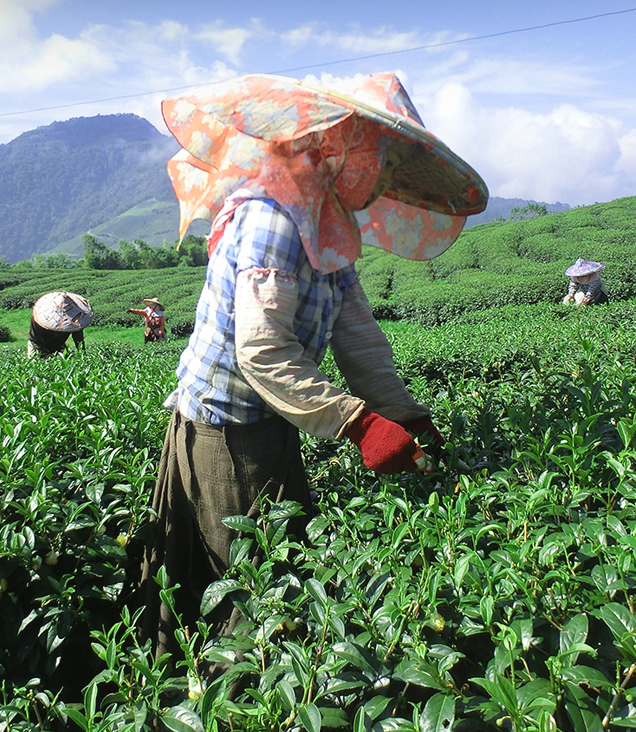 The mild, humid climate and the mountainous geography lead this garden to be shrouded in clouds and mist year-round, and under the nourishment of sufficient water, the leaves from the tea plants here can be kept tender and fresh for a long time. Meanwhile, the abundant rainfall gives this tea its rich color and luster, and superior taste.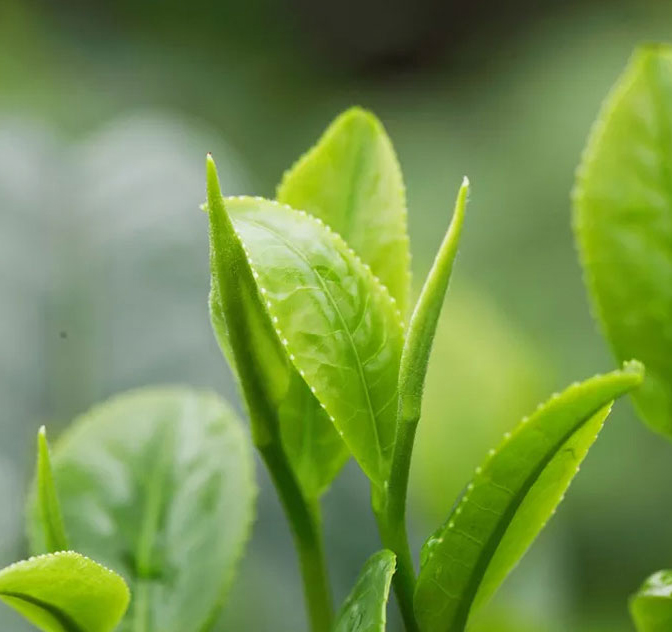 Tea tree quality Yunnan big leave tea tree cultivar is the superior raw material for making Pu'er tea, Good raw materials contribute to good taste of teaThe tea buds and leaves are fat and rich in nutrients. Yunnan has a unique advantage in its geographical position in that its abundant rainfall and proper temperature are perfect for growing large-leaf varieties like this. The leaves from this type are abundant in polyphenols, catechins, amino acids, and caffeine.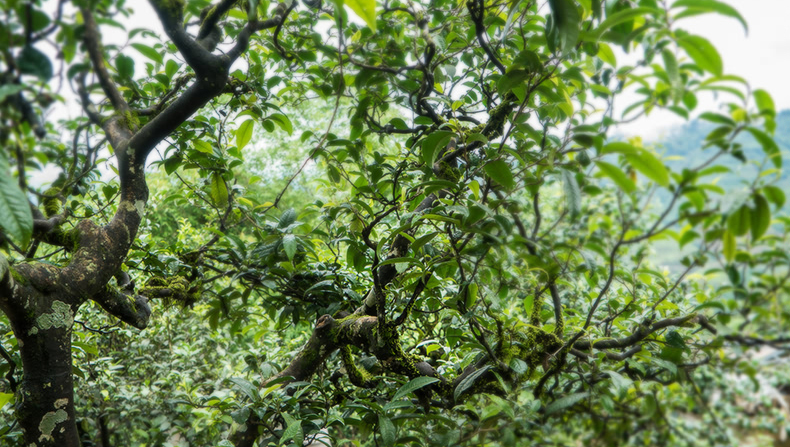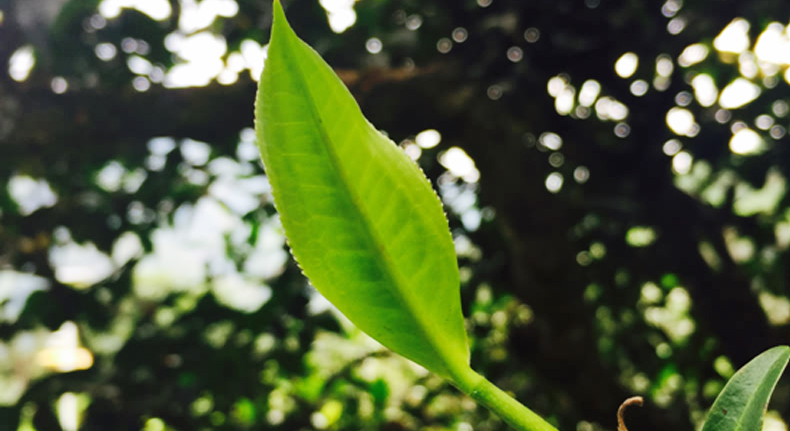 Organic tea features 1. Originated from deep mountains, far away from cities, far from factories and living areas, limited production areas
2. No chemical fertilizers, follow the natural growth law of tea
3. No pesticides, artificial or biological insect removal
4. No flavoring is added to ensure the natural taste and color of tea
5. Manual weeding, no herbicides, only manual weeding Ttraditional craftPu'er loose tea is made by picking, withering, fixation,rolling and drying to make sun-dried tea, and then piling, sun-drying and sieving to make Pu'er loose tea.
Processing:
Picking: Picking each fresh leaf by hand to ensure the aroma and taste of the tea
Withering: The fresh leaves are graded and spread until the moisture content is about 70% for finishing.
Fixation: It must be cleaned thoroughly and evenly, without the smell of grass and smoke.
Rolling:Twisting and pressing should not be too heavy, the time is 30 to 40 minutes.
Breaking:Break up the tight tea.
Drying: Must be dried in the sun, during which time can be twisted again to make the tea sticks tight.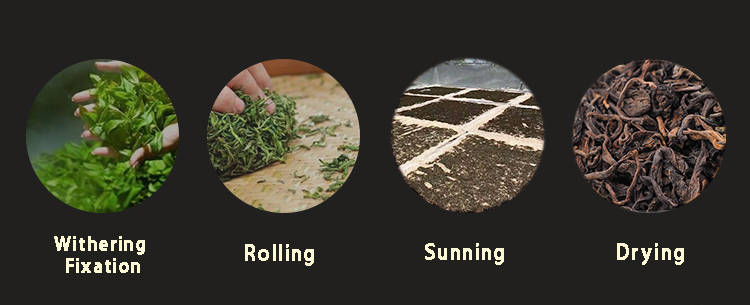 Speciality:Using organic high-grade sun-dried green tea as raw materials, moderately fermented, sieved and refined, the selected materials are delicate, and are made from buds. It is a high-quality Pu'er ripe tea. . The color of the soup is as red as ruby, and the tea soup is thick and has the feeling of rice soup, which is a taste that very few Pu'er loose tea can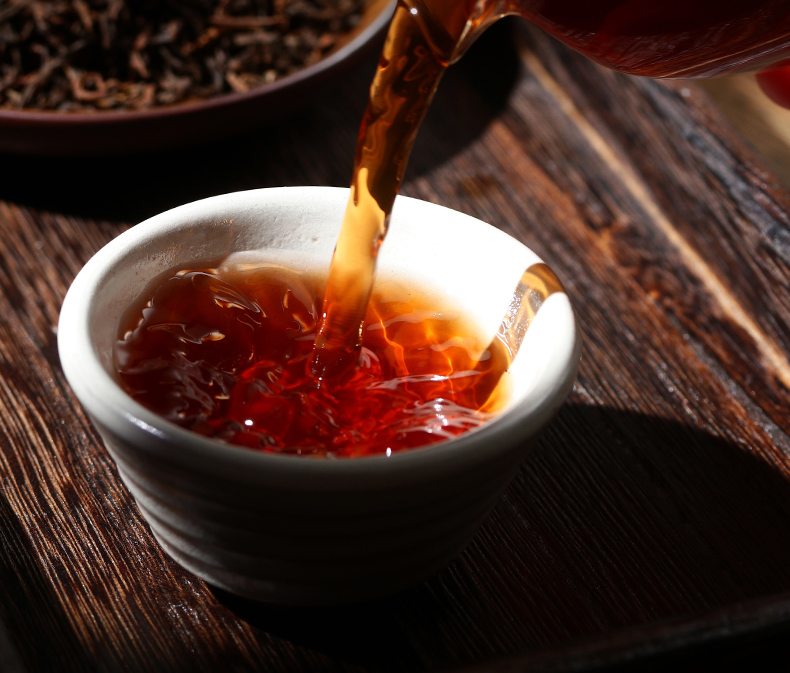 Suitable storage space, the charm of old teacollection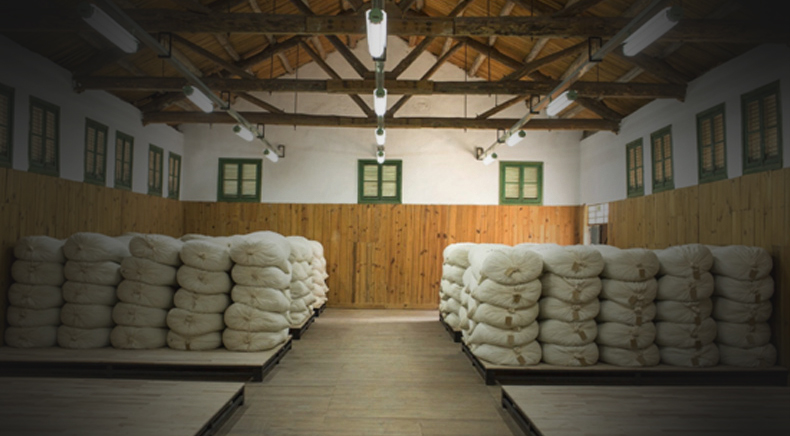 Stored for 35 years, royal golden bud Pu'er, the charm of aged tea.
The old Pu'er tea infusion is very thick, oily and attractive, smooth and mellow, the sweet and smooth tea infusion slowly
moisturize the throat, giving people a very comfortable feeling.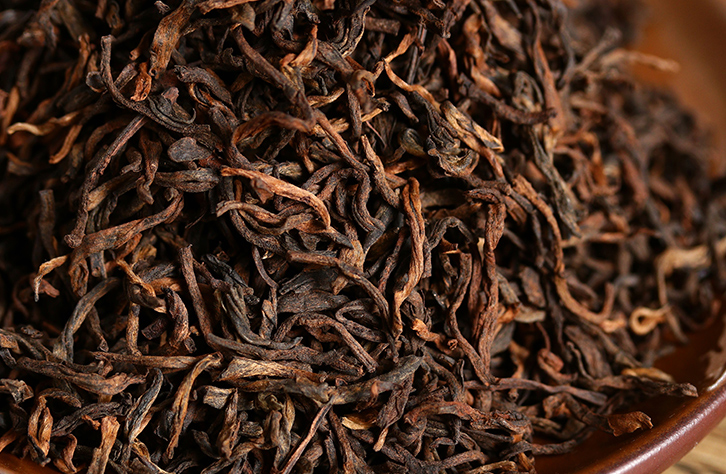 History:Pu-erh is one of the oldest types of tea in China with a history stretching back over 1700 years to the Eastern Han Dynasty, when the tea was called Jing Cha. It is named after the town of Pu'er in Yunnan province, which was originally the early trading center for this tea. In early history pu-erh was used as a bartering currency in southwest China, with the famed Cha Ma Gu Dao, the Tea Horse Road, being built for the purpose of transporting this tea through the Himalayas to other countries and areas in Tibet.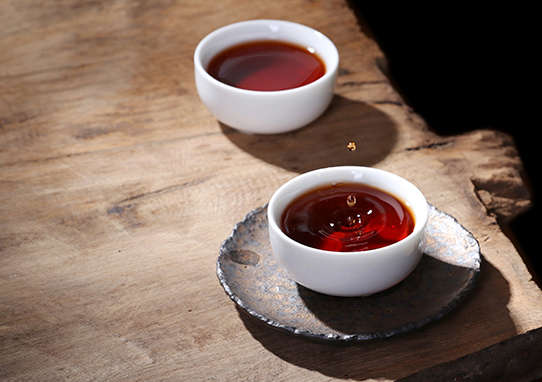 Health Benefits :Pu-erh tea contains tea polyphenols and caffeine. After drinking, it refreshes the brain and relieves tiredness.
1. Warm the stomach and resist cold
2. Enhance immunity
3. Anti-aging
4. Lower blood pressure, lower blood fat, lower blood sugar
5. Helps digestion Company Profile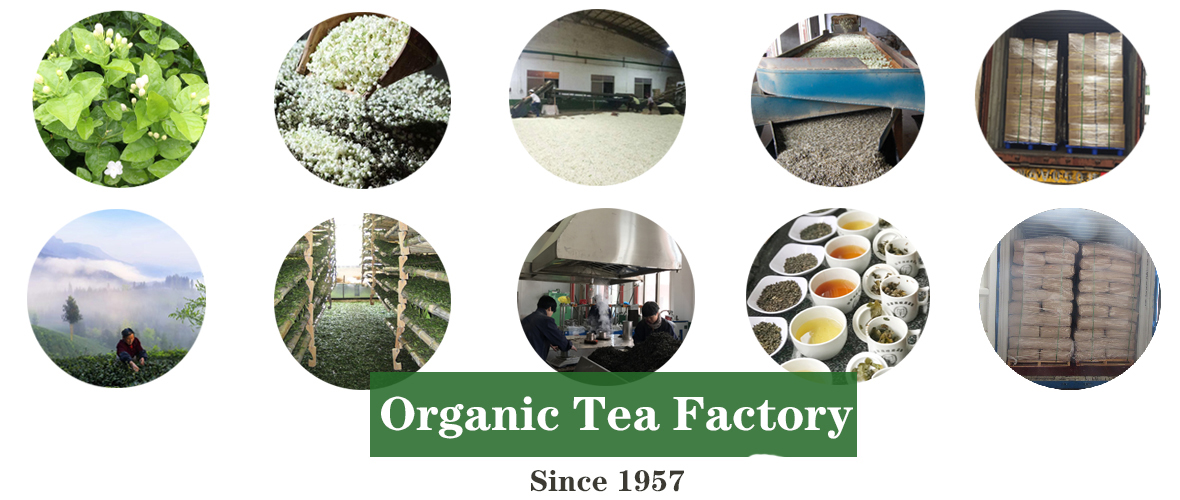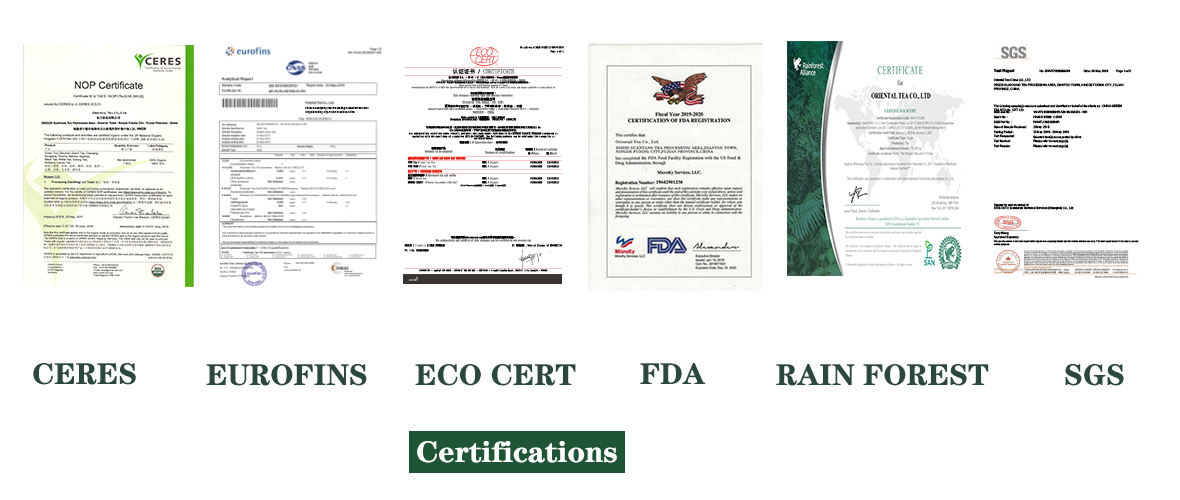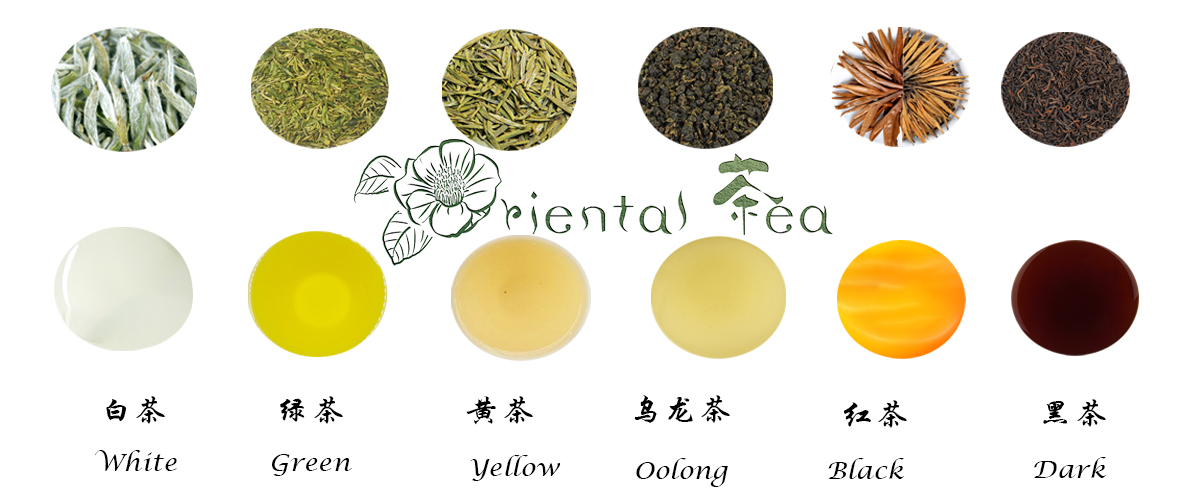 Jiuzhou Tea Company Ltd founded in 1954 in Fujian Province, China. Started as a small traditional family workshop, Jiuzhou Tea
grew step by step, now owns a tea factory of 2,000 m2, and a tea plantation of over 30,000 acres, after decades of hard work and
good reputation. Jiuzhou Tea integrates tea production, processing and sales together. Our main products include White Tea, Green
Tea, Jasmine Tea, Oolong Tea, Blooming Tea, Black Tea, Pu erh Tea. With the outright dedication, we have been involved in tea
business for more than 60 years and possess the capability of marketing and exporting our high quality Chinese teas to more than
40 countries. Tea is an excellent culture of China, it provides a healthy and elegant life style for tea lovers. We devote
ourselves to bring the long history and meaningfulness for our tea friends all over the world, by producing good teas, giving
professional tea ceremonies, holding various tea journeys. Honesty brings more warmth and beauty to life! 1. who are we?
We are based in Guangdong, China, start from 2017,sell to Southern Europe(10.00%),Domestic Market(10.00%),Northern
Europe(10.00%),Central America(10.00%),Eastern Europe(10.00%),Western Europe(10.00%),North America(10.00%),Mid
East(5.00%),Africa(5.00%),Southeast Asia(5.00%),South Asia(5.00%),Eastern Asia(5.00%),South America(3.00%),Oceania(2.00%). There
are total about 51-100 people in our office.
2. how can we guarantee quality?
Always a pre-production sample before mass production;
Always final Inspection before shipment;
3.what can you buy from us?
tea,Jasmine Tea,White Tea,Black Tea,Green Tea
4. why should you buy from us not from other suppliers?
Direct from our Plantation, Factory.;Full certification (EU & Organic).;Quality first, OEM available.;Experienced staff,customers
worldwidely.;Quick shipping.;Small order welcome.;7 days refund.;After sales service 24/7.;Grand choices for TEA & TEAWARE.
5. what services can we provide?
Accepted Delivery Terms: FOB,CFR,CIF,EXW,FCA,DDP,DDU,Express Delivery;
Accepted Payment Currency:USD,EUR,GBP;
Accepted Payment Type: T/T,L/C,D/P D/A,MoneyGram,Credit Card,PayPal,Western Union,Cash;
Language Spoken:English,Chinese,Japanese,German,French,Russian FAQ FAQ
Q1. Can I get samples?
A:Yes, free samples are available on a case by case basis at buyer's own freight cost after confirmation
Q2. What is your minimum order requirements?
A:Usually 20kgs/ item, knowing that the more quantity, the lower the price per kg.
Sample order is also acceptable.
Q3.Can you provide OEM service?
A:Sure, please contact us for more details.
Q4.How is your Quality Control?
A:From the very beginning to the very end, National Commodity Inspection and Testing Bureau, Authority Third-party Testing
institution, QS, NOP, BRC, QS guarantee our quality.
The details for our pesticide control are as follows:
1 - we test our raw tea material.
2 - we test the first batch sample products.
3 - we test the bulk tea before shipment.
Please ask us for the original certifications.
Q5.Can I visit your factory & offices?
A:Yes, you are most welcome to visit us. Please let us know in advance so we can get organized.
We have own tea farms and factory in Fuding, Hengxian and Fengqing two hours away from Xiamen city (for white tea, green tea,
oolong tea), or three hours away from Nanning airport (For Jasmine tea), and three hours away from Lincang airport (For Black Tea
& Pu Erh Tea) .
Q6.When will my order shipped?
A:Products in stock usually ship within 3 days. Otherwise, depending on the tea varieties and order quantity, delivery times can
vary. Please ask us and we will let you know.
Q7.Will my money be refunded if anything is wrong with my order?
A:If there is a problem or defect with your order, , please contact our manager within 10 days upon receiving your order. We will
refund or replace the products if there is eviden that this is our fault.
Q8.How can you make sure your products are more competitive for my business?
A:With over 50 years of experience as manufacturers for three generations, direct trade saves significant costs. You do not need
to pay middlemen nor brokers for better quality tea. We think we are at least 12% less expensive compared with traditional
traders.
In addition, our teas are directly from our factory, thus are fresher than those offered by other traders. Good quality leads to
better sales and less complaints;
We also do OEM for your own brand, including TEA + PACKAGES according to your demand.
As we sell big quantities to overseas, the tea quality and pesticide are under control, and such are the average prime cost, which
is very competitive.
Finally, we have not only premium product sources and trading experiences, but also complete supply chain and abundant cash flow
to support our global tea business.
Taste the nature, enjoy the health!
Groupes de Produits : Thé puer